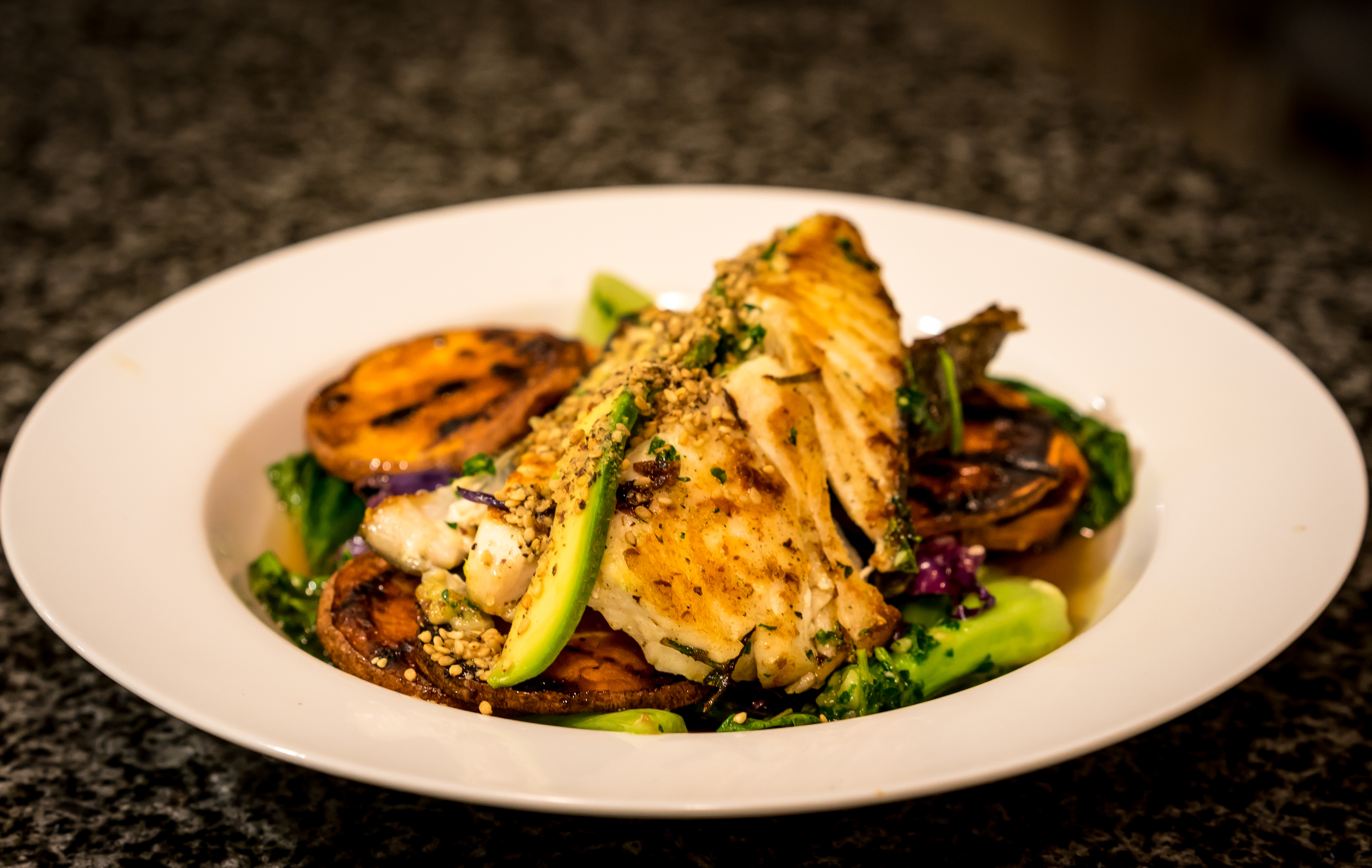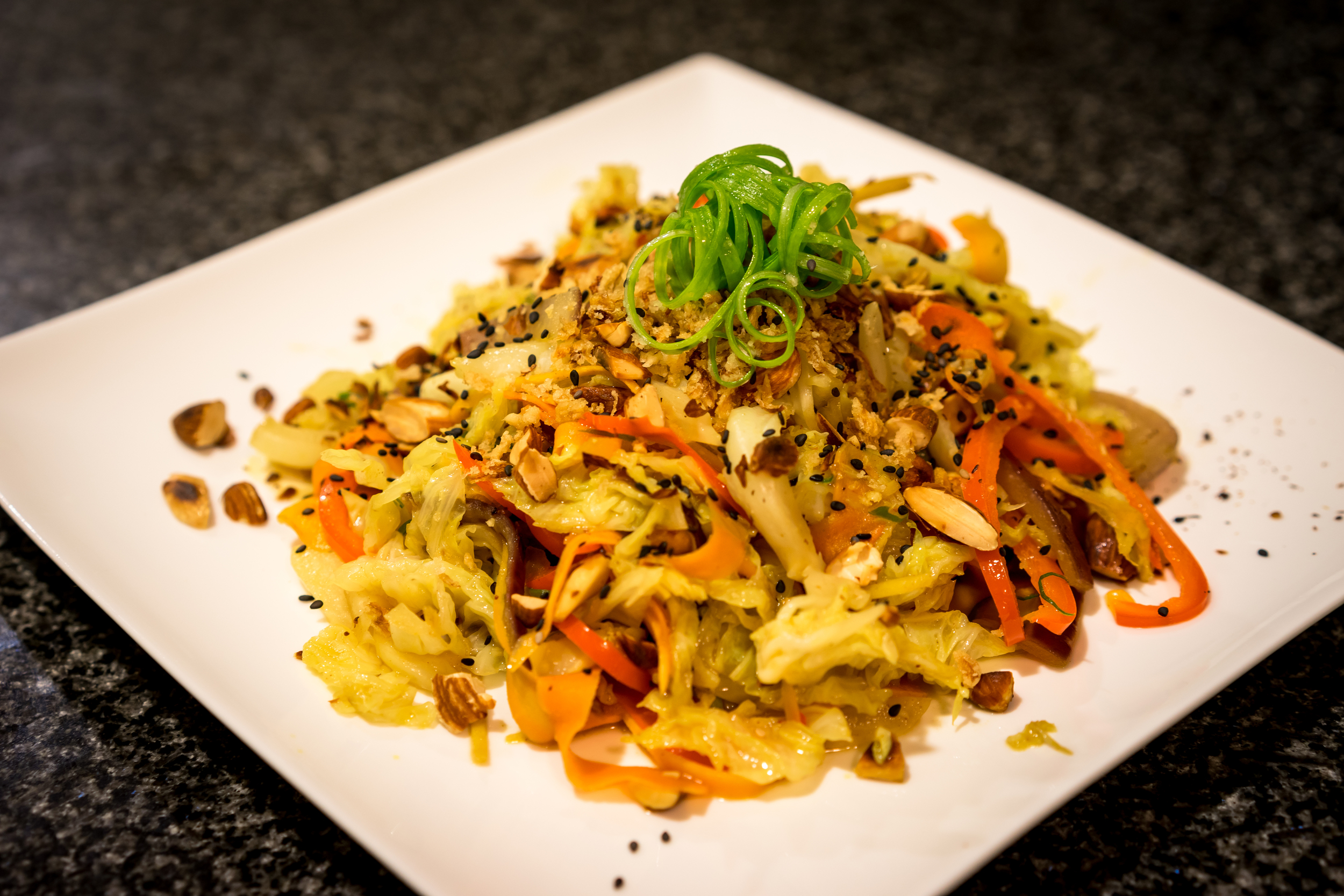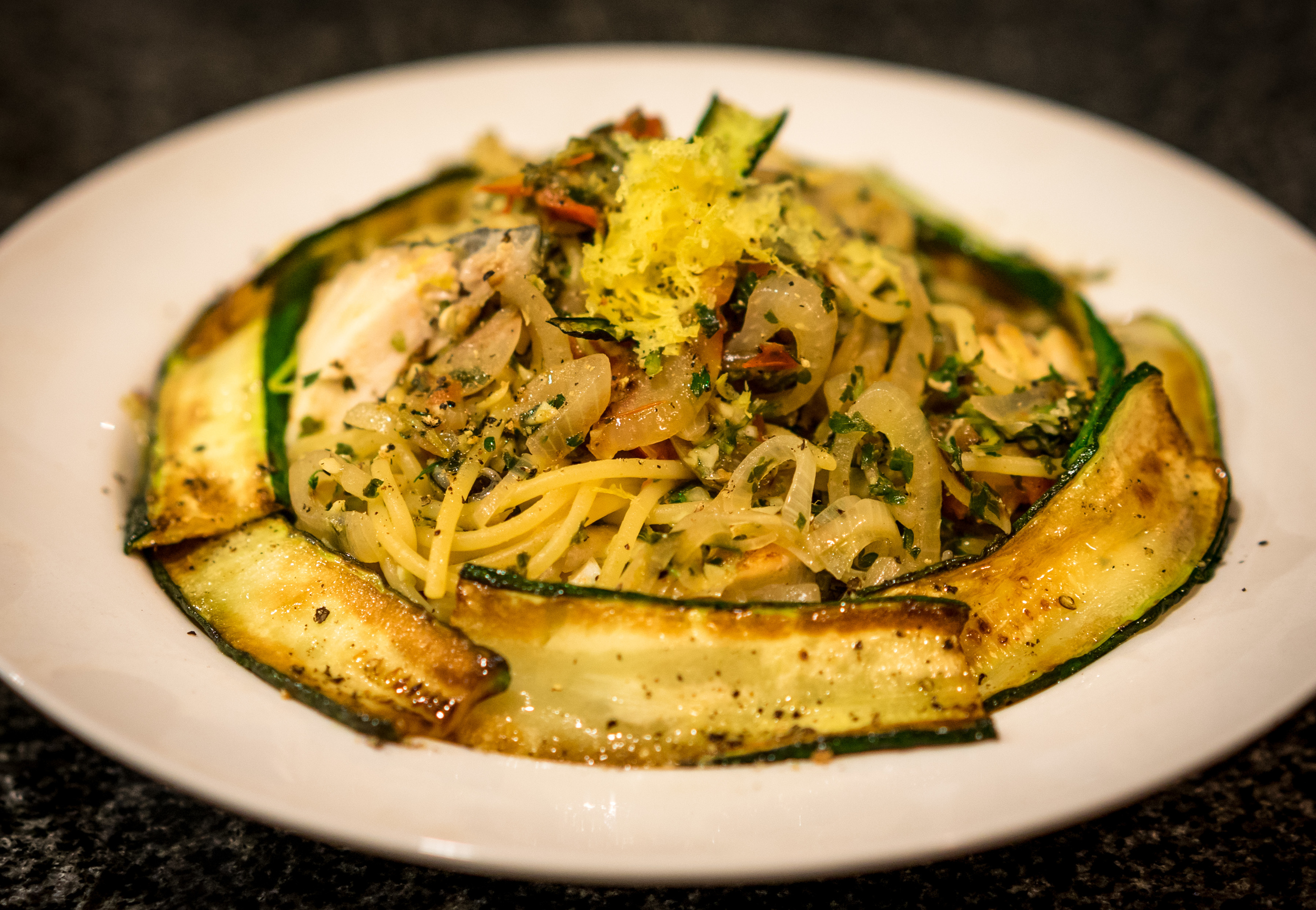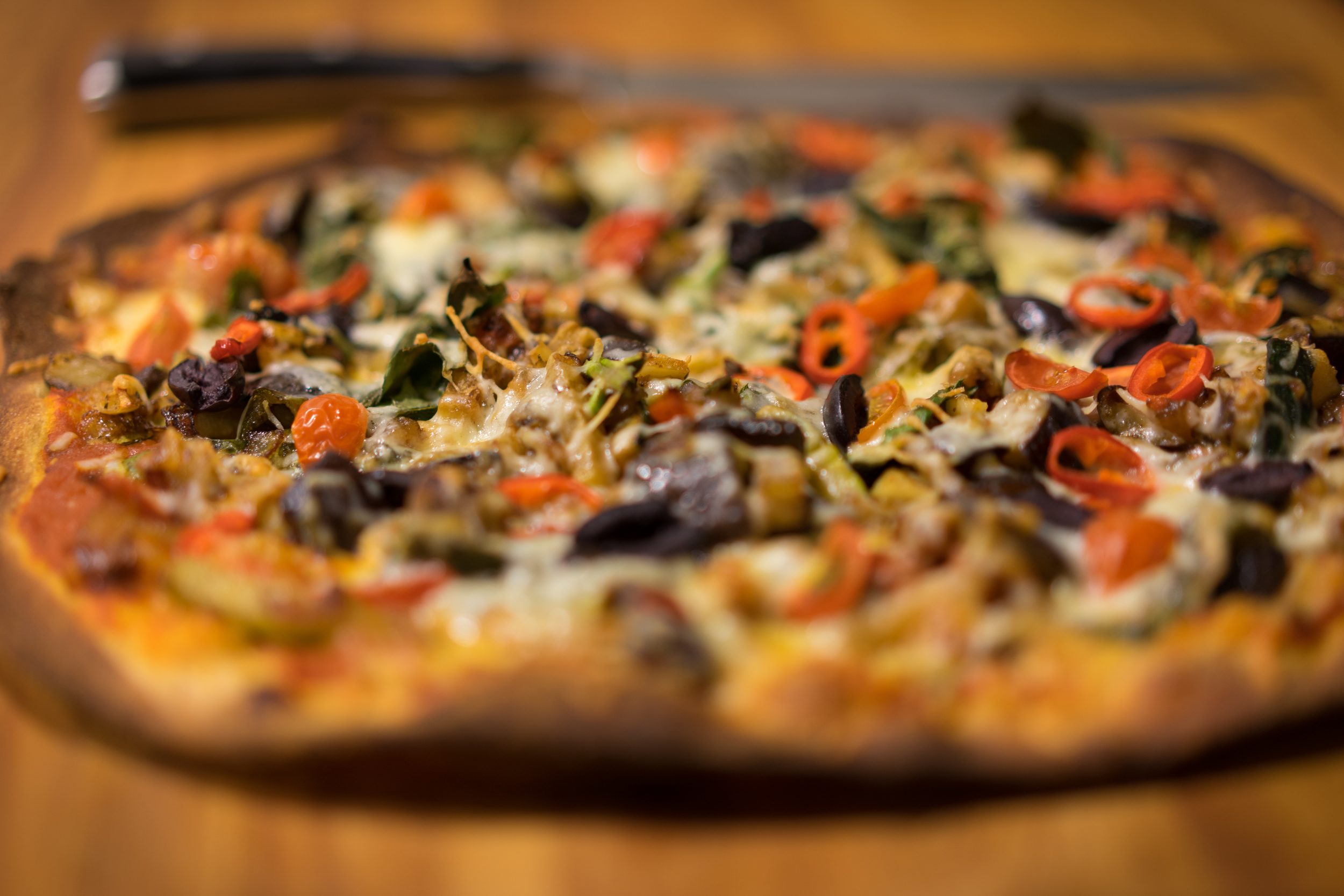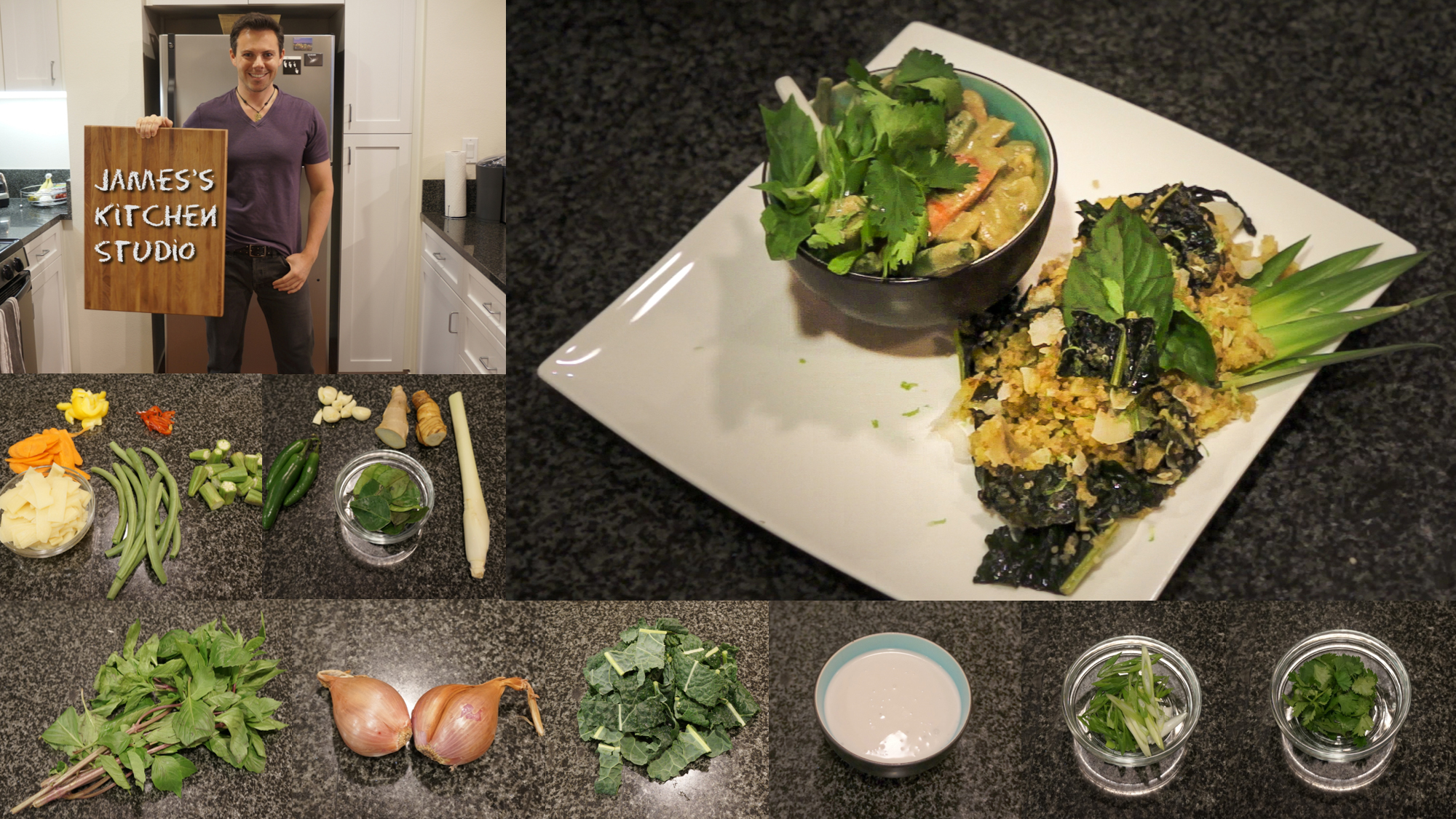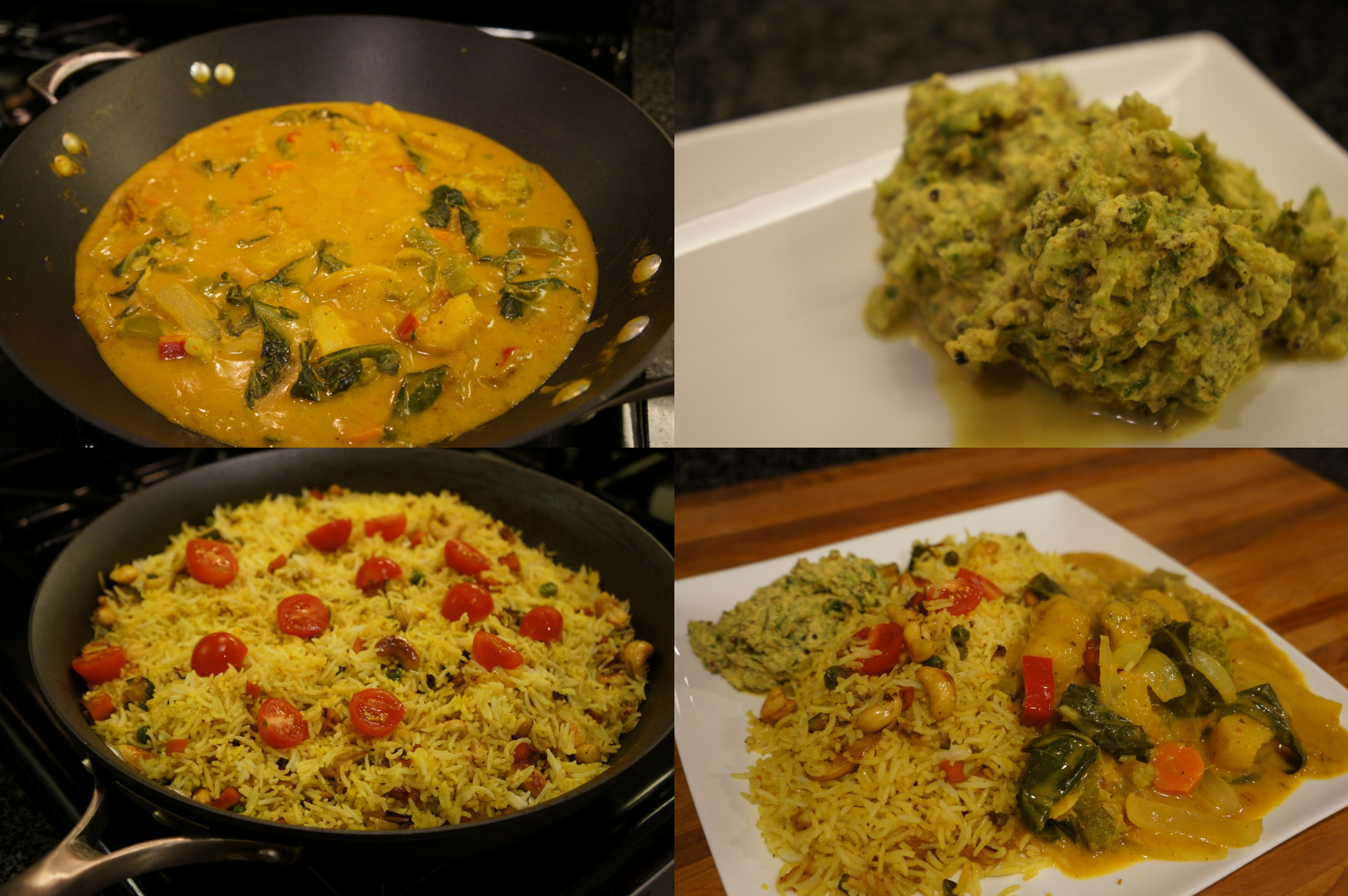 SUMMER GRILLINGS
How-to:
1. Cut aubergines/eggplants about 2/3 an inch thick; salt them for 20mins; dab with a paper towel to remove the bitter oils that will rise to the top
2. Slice courgettes/zucchinis about 1/2 an inch thick
3. Slice mango about 2/3 an inch thick
4. Brush all with oil. Use a high-heat non-smoking oil and grill. I grill on the stovetop with a cast-iron Staub grill because it is easier to manage these fragile veggies. Manageable batch sizes are key to better results...don't cram em all on...take your time.
5. Toss all cooled veggies and some grape tomatoes in your favorite oil or EVOO with minced sauteed garlic, chopped fresh mint, and a bit of red chili if you like some heat like me. Salt and pepper to taste.
The grilled veggies are a way healthier alternative to grilling meats. The tomatoes are a nice complement to add back some freshness as they burst in your mouth balancing the strong flavors of the grilled veggies.
I love my aubergines like this. If I am making a lot, sometimes I'll justify the work for a dressing to toss each grilled veggie separately. Lemon & garlic (with fresh lemon zest) is fantastic on a mix of green courgettes and yellow summer squashes.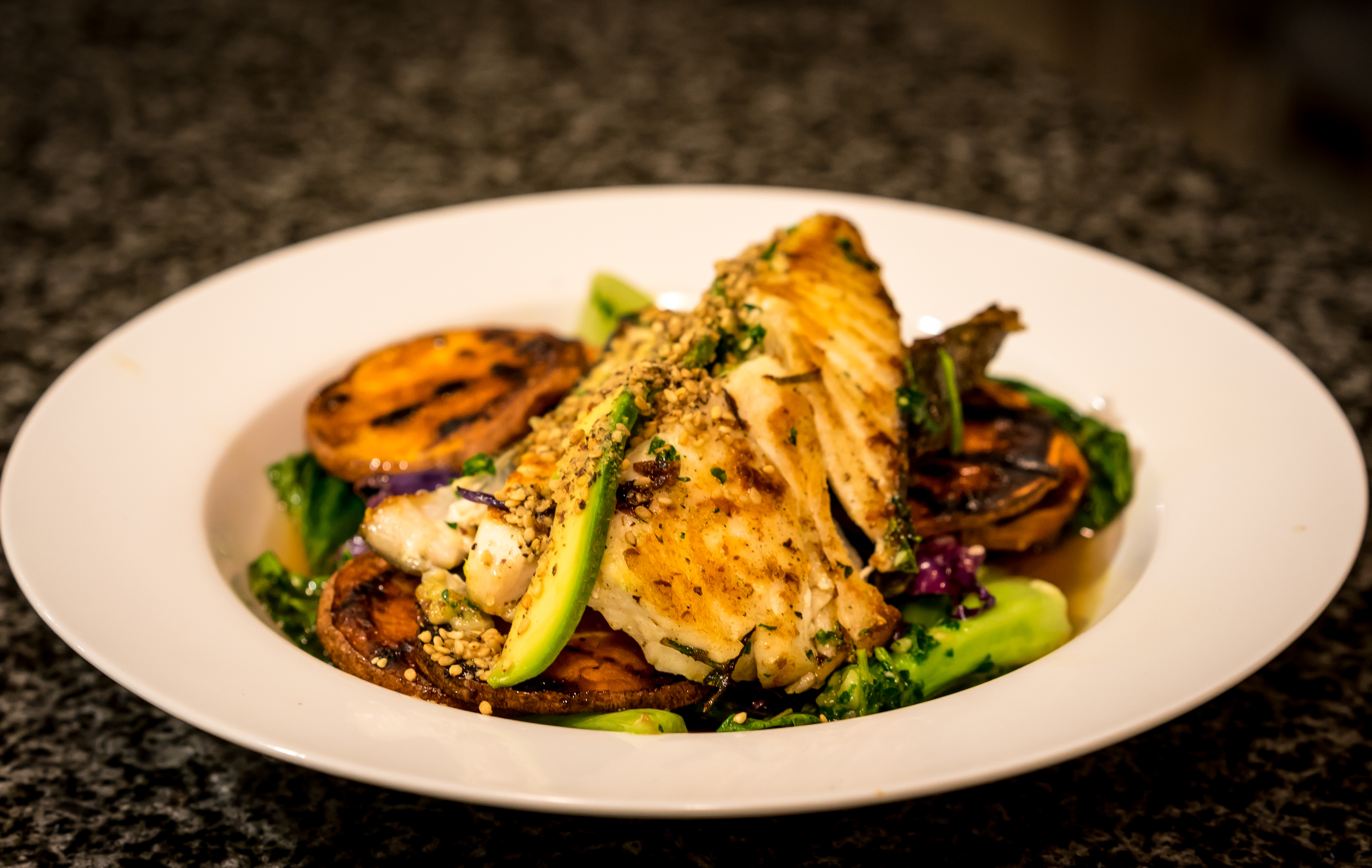 Japanese Halibut
So not vegan/vegetarian, but halibut was wild and fresh and sustainably caught today at Whole Foods, so I indulged and opted for a style of cooking I rarely do at home...Japanese.
Here's how I constructed this 4-layered Japanese food porn...
- Bottom layer #1: a hojicha tea "broth" (steep longer than you'd usually drink, so it's a bit stronger). Using this broth, steam up some baby bok choy with a smidge of garlic. Lay bok choy around the edge of the dish in a circle.
- Layer #2: Slice red cabbage about 1/4 inch thick and steam-fry it. Drain excess water while still crunchy and add some Bragg's Liquid Aminos (soy sauce replacement) with some toasted sesame oil (just a little) and white sesame seeds. When done the cabbage goes in the center of the plate in the hole left by the baby bok choy.
- Layer #3: Grill Japanese yams and then set aside (do it ahead of time). Quickly fry these up or bake basted/tossed in teriyaki sauce.
- Layer #4: Halibut was thick and cut against the grain here into 3/4 inch thickness. It was fried on high heat with a touch of safflower oil skin down to crisp it (tricky to hold it up, so lean them against each other). Then turn them flesh down to brown each side. You want the pan very hot, so it sears the outside leaving the inside moist and not totally cooked through yet. Do this so that you can put it into an oven for a couple minutes to finish cooking perfectly while you plate. Lay 2 pieces of fish down per person. One tilted skin-up through the center-line of the dish. Here, I garnished it with 3 very thin avocado slices along the skin, then squeezed a bit of lime juice on the fish and avocado, then a bit more of the tea/broth, then Furikake along the avocado.
Easter Bunny Salad
I double-checked and yes Peter Rabbit likes radishes. Some of the most beautiful ones you can eat with your eyes first are watermelon radishes that are green outside with a paler inner rim, then pink in the center.
I thought for Easter, it would be fitting to use these. Not only does Peter like them, but so do I and they are beautiful Easter colors.
This salad was simply thinly sliced watermelon radishes and golden beet with a lemon creme dressing (kind of like my Caesar dressing without as much garlic) and a spring lettuce mix. I added a bit of avocado for more sustenance and dusted it with my edible flowers-and-herbs mix.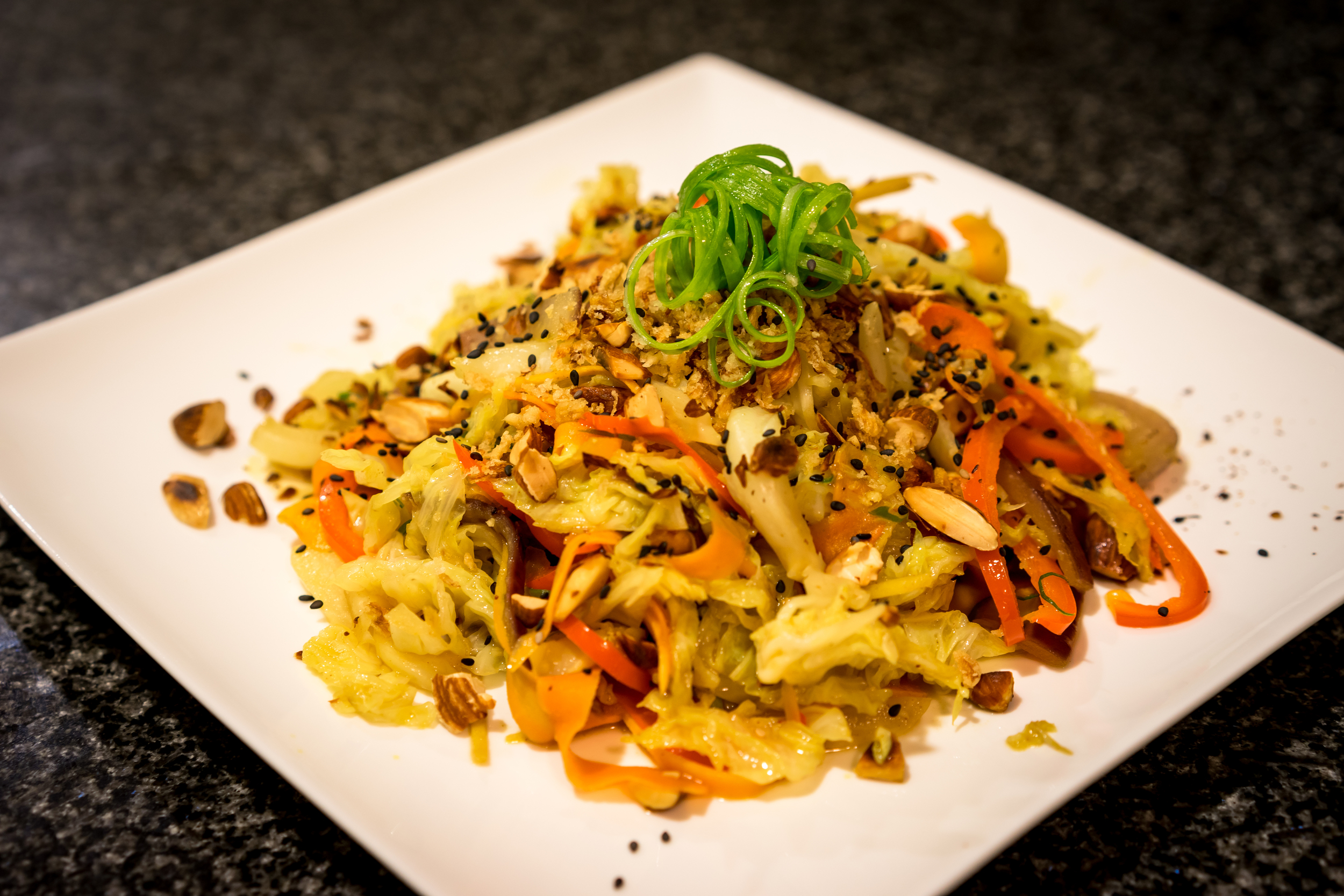 Gingery Cabbage Stir-fry
This stir-fry / steam-fry is as simple as tasty as healthy.
The premise is just to take out the starch (grain or noodle) and use cabbage instead. It's fast - see it come together in mintues in the video; It's simple - all-in-one wok...no separate cooking required; It's healthy - no starch, no gluten and more veg!
Click the image or right here to see it made on my YouTube channel.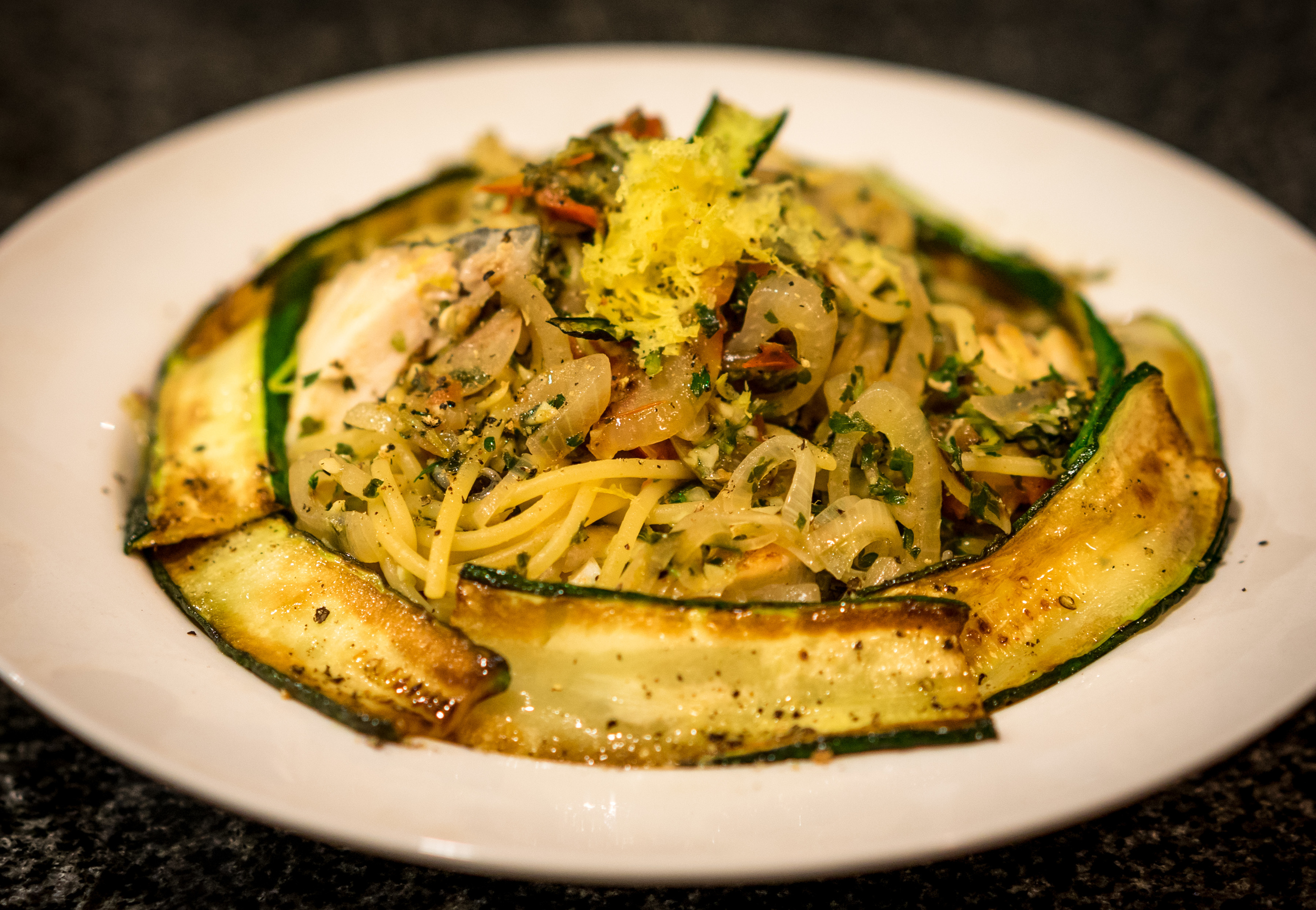 Made-with-Love Lemon-Halibut Spaghetti
You may have seen my other halibut dish. This was from the left-over halibut fish.
I almost never have spaghetti noodle. There is something very "old school," having grown up with enough of it... I didn't buy it for years...until a few months ago. I have to say it's actually nice. It makes for less starch, and it still quite satisfyingly fills the role of a long pasta noodle.
So here's what went into this bowl and how to rinse and repeat... in a nutshell.
Fry up the some halibut squares until half cooked and set aside. Get the courgettes fried and set aside as well. Get the pasta going of course. Sweat one thinly sliced shallot and one chopped roma/plum tomato with EVOO, then turn up heat on that pan when the pasta is done... Now things are quick! Toss in a bit of butter, lots (to my taste) of parsley and garlic, half the zest of one lemon. Squeeze in juice of the lemon, and add about the same amount of the finished pasta pot water to thicken. Stir a little, and add back the fish with S&P. Sautée on high for 30 seconds, then plate. Wrap the courgette (zucchini) around the edge...(it will get hot just from the pasta's heat on the way to the table, so don't worry about that). garnish with more lemon zest if you love it as much as I do.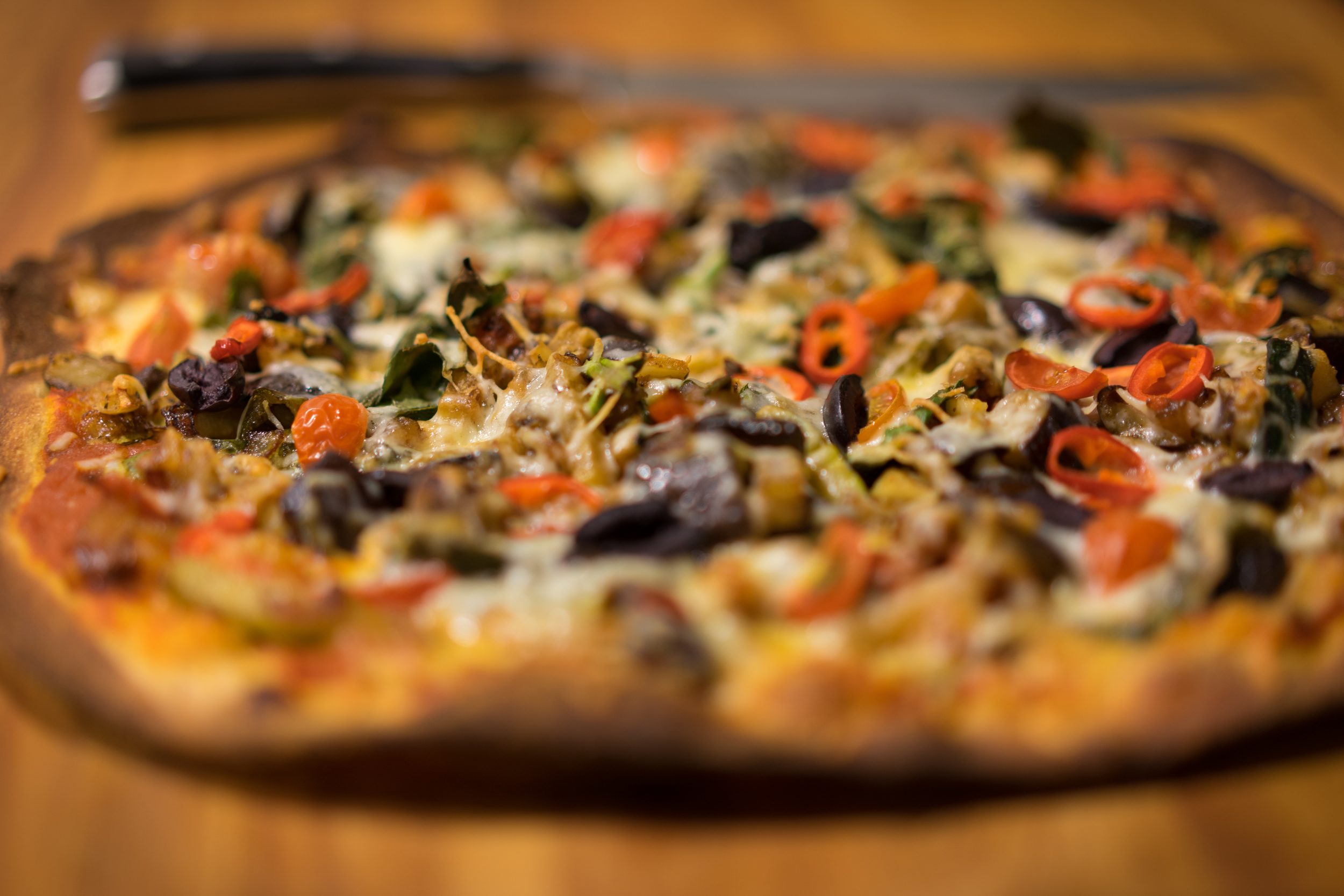 Borrowed love
Pizza is a favorite food to so many of us, but let's face it, it takes a while to make from scratch, so you wouldn't do it most nights. When I'm not up for the whole shebang of a pizza party, but still want some pizza, here's how I CHEAT... borrowing some store-bought love to mash up with my own.
1. I have whole-wheat dough from Whole Foods in the freezer. One ball is enough for two pizzas, so if you want to cut it before you freeze it so you can take out one pizza at a time, remember to do it straight away when you buy it.
2. For sauce, you can also make and freeze your own sauce, or you can buy sauce. I find that buying a nice pesto or a Mario Batali Arribbiata (spicy tomato) pasta sauce is also even easier in a pinch. Or, you can even have no sauce and put something on at the end like chili oil, sriracha, tamarind chutney, teriyaki, again more pesto!, lemon juice...it totally depends on what you're going for. Be creative, pizza don't always have to be Italian flavors.
3. Toppings are the bulk of what you're going to taste, so here is where I usually don't cheat. I make my own from scratch, but here's how I save time. Toppings are very thin or often pre-cooked. On this spicy eggplant pizza in the photo, in a frypan I sautéed: eggplant, shallot, courgette, a bit of tomato, garlic, and spicy peppers (serano and red fresno). This frypan full of taste is a great time to salt and season with paprika, oregano, etc. Then set this aside to cool so it is handle-able when you want to put it on the pizza.
4. Build it... If you're not a pro dough tosser, use a rolling pin like me. You can get it thinner without breaking this way too. I cook on metal pizza pans brushed with evoo and sprinkled with semolina flour to avoid sticking. On the pizza in the photo, in order, I laid down my sauce, fresh basil, my sautéed veg, more basil, my Italian mix cheese (cheatin' vegan), halved black olives, and more fresh peppers slices and quartered grape tomatoes.
5. Baking pizza is tricky. You have to know your oven. The only rule is to do it hot. I use 475f / 250C, but some folks go even hotter. If you use a pizza stone, it's best to have the stone hot and slide the finished pizza on to emulate the real deal, but that isn't foolproof, hence my opting for pans until I have a home with an outdoor pizza oven :) I actually pre-bake my crusts for two minutes as well because I do them so thin and that's what works for me. Besides, I like super-thin, super-crunchy crust (that's why when I make my own dough, I use bread flour).
6. Finishing touches of oregano or chili oil are common favorites in my house for Italian flavored pizzas.
Bon appetit!
Green Garlic-chive & Kale Risotto
Green risottos are a new favorite of mine! In this video, I'll show you exactly how to make a gorgeous green risotto featuring garlic-chives and Tuscan kale (aka "dino" kale). I'm making it vegetarian, but honestly most often I make this vegan (without butter and Parmesan cheese and more EVOO instead). Take liberty with your own vegetables and putting your creative juices in action.
Risotto (http://en.wikipedia.org/wiki/Risotto) can be varied so many wonderful ways. With garlic-chives it is a great gateway into spring time (as I record this), but it is a satisfying stick-to-your-ribs dish that has hearty autumn and winter variations too such as with squashes and other legumes.
Ask me a question in the comments section below and if you enjoyed this, then be sure to like and +1 this video, and subscribe to my channel for more genuine kitchen adventures.
#throughglass #glass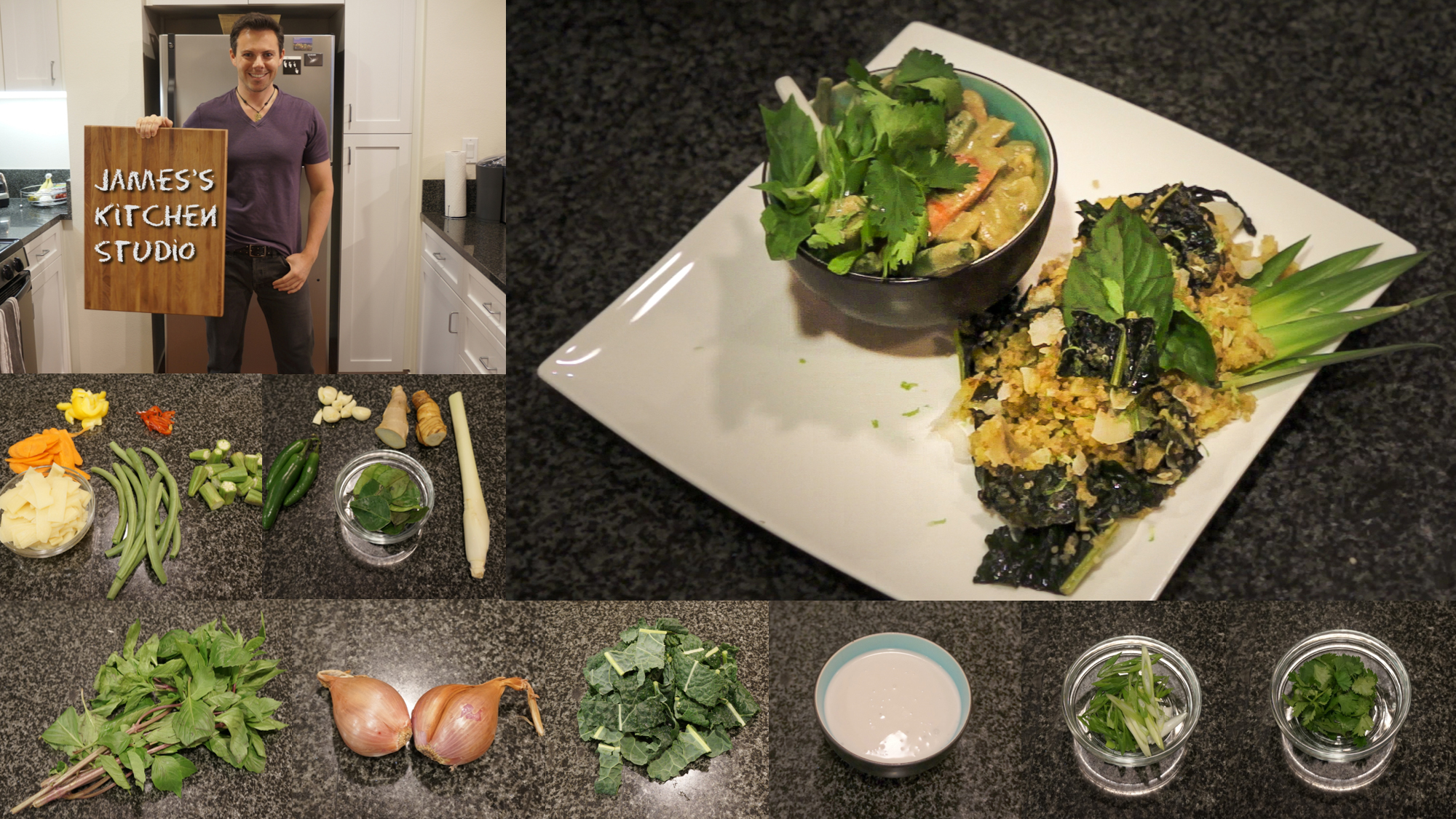 Thai Green Curry
Full of south-east Asian flavor, Thai currys are delicious and easy if you have a blender. Serve it with rice or quinoa, or my fav pineapple-fried quinoa.
Vegan Caesar Salad
Home-made Caesar dressing is SO good, and I think it is even better following this vegan recipe.
Here's the video, and here's the recap:
In a vitamix blender (or pre-soak your cachew nuts for an hour) blend until creamy (or use your sauce setting):
2 handfuls of raw cachew nuts
juice of a whole lemon
1 teaspoon of lemon oil (available at Whole Foods or leave out)
zest of one lemon (or sprinkle it on top of salad or at least save a pinch)
3 tablespoons of EVOO
3 tablespoons of water
1 teaspoon of mustard powder
5+ cloves of garlic (see note)
salt and pepper to taste
Note: Don't buy Chinese garlic, it's rubbish. Get organic local garlic if you can. You may want to roast the garlic to take the edge off. I usually put in two cloves raw and the rest roasted or sautéed if I'm saving time. Also a little bit of roasted shallot can be nice.
Variations: You can use this oil+water+cachews as a general recipe for vegan cream, and flavor it with whatever you want!
Meyer Lemon and Lavender Sparkling Lemonade Mocktail
Very quick video demo I made on my Google Glass.
Lately I add just a single drop of high-grade lavender oil too... so therapeutic!
Indian Flatbread of Gobi Manchurian
Another vegan Indian flatbread/pizza extraordinaire. This time with Gobi Manchurian.

See my demo video for the idea and sauce for the Gobi: Indian-inspired Flatbread Pizza or find my post for more photos.

To make the Gobi/cauliflower... Roughly chop 1 cauliflower, 1 tomato, 1/2 a red onion and a green chili or jalapeño. Hand toss coating in the sauce, and then bake at 375°f for 15mins then toss/mix and toast (broil) and repeat tossing and toasting until satisfactory toasting crispness.
Pad Thai Curry Fusion
In this video, I make one of my favorite (Thai) flavor profiles in a simplified fusion of two dish styles: Pad Thai and Thai Curry. This one is nice and easy especially if you cheat with some pre-made/bought Thai curry base of any kind. You can use Thai veggies or go for a healthy mix as I do here. Bon appetit!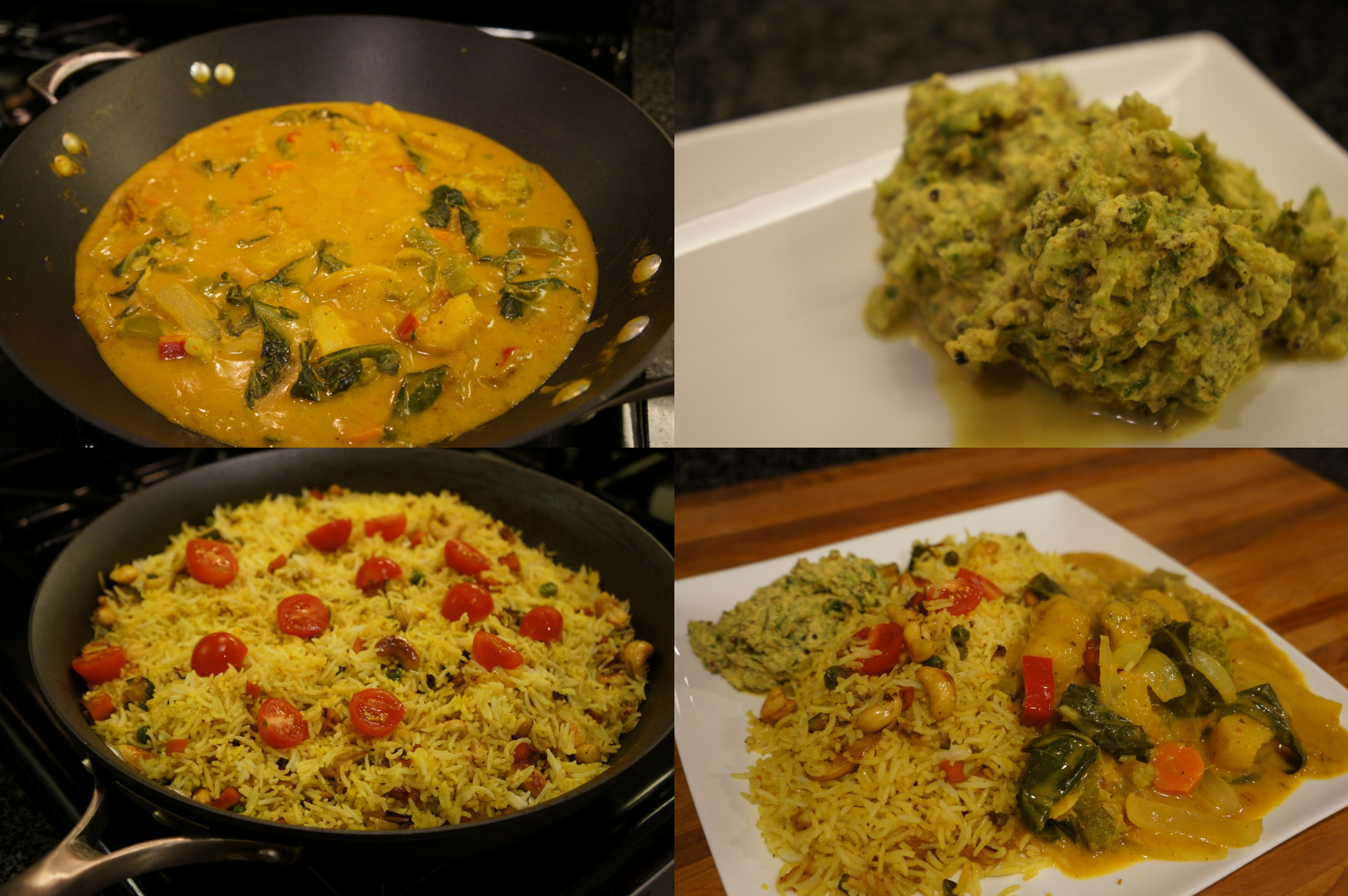 Madras-style Squash Curry, Biryani, and "Raita"
Made some delish curry last night!

I had some whipping cream left over from when company was here and don't normally use it, but I was inspired try to make Raita with it traditionally made with yogurt - which I don't normally eat neither) for a Biryani, and then of course I had to make curry too.

Raita: Whipped cream, dry-fried indian spices and seeds, chopped mint, shredded lebanese cucumber, S&P

Biryani: Basmati rice, spices, cachew nuts, carrot, onion, zucchini, garlic and ginger, S&P

Madras-style Squash Curry: Acorn squash, collard greens, broccoli, carrot, onion, and peppers, S&P

Raita with whipped cream was a good idea! It's not the same as you're used to, but try it out.
Oh My Green Goodness
Drinking green juices is how I stay healthy. My juicer is permanently on my kitchen counter.
I also have a collection of health and wellness videos in my YouTube "Get Vitality" playlist.
Th-indian noodle stirfry
Th-indian noodle stirfry

Ingredients...
1. See veggies on cutting board. In a wok steam-fry hard veggies for 90 seconds (carrots, onions, ginger, peas), then stir-fry the rest for 60 seconds(draining out any water, then adding coconut oil and a splash of Bragg's Aminos [a healthier soy sauce]). (longer times if you slice thicker)
2. Add Pad Thai noodles at the end with more Bragg's (soak in kettle-boiled water in a bowl until soft then keep them in cold water until the very end of cooking in the wok).
3. Toss in garnish of kafir lime leaves, cilantro, lemongrass chiffonade with S&P and curry powder.
4. Garnish after plating with avocado, lime juice, sesame seeds, and a bit more lemongrass and curry on the avocado.
Nectarine Seasonal Salad
How-to
1. Cube some seeded bread/baguette and toss with melted coconut oil, brown sugar, salt (smoked salt is also good), and smashed walnuts; roast at 350f, then set aside when done (about 12 mins).
2. Slice the nectarines. If you can get a whole circle, then you can twist them on the plate as I did for one here (I gave the nicer plates to guests)
3. Layer 1: Toss spring greens and finely sliced shallot in evoo, lemon juice and veggie-salt and pepper or a flowery salad spice mix if you have one.
4. Layer 2: Distribute the nectarines and roasted crumble
5. Layer 3: Add more greens or optionally I made, another salad of lemon cucumbers, spring onion, cilantro, goat cheese (helps to freeze it in order to crumble it easily), lemon juice, lemon oil, evoo, and salt.
Organic Baby kale salad
With the baby kale add:
Orange zest and juice of one wedge
Minced radish and yellow pepper
Julienned fennel
Finely-sliced spring onions
And evoo, s&p
The award for the best pizza sauce goes to...
I love pesto for so many dishes, but it is a must for pizza!
Here's my basic pesto recipe.
In my vitamix's (blender) sauce mode, I add:
A whole bunch of basil and optionally parsley
2-3 handfuls of roasted pine nuts (if you're on a budget add some raw cachews to fill in)
1/4 cup of EVOO
5+ roasted garlic cloves
At least few tablespoons of water while blending to get the desired consistency
Salt and pepper to taste (but quite a bit at least please). Good salt is good for you!
Guacamole
Maybe I ought to call this Gua-Cali-Mole because I love the California produce that allows me to make this delicious dip all year round. But this recipe was born and raised in Canada, as I've been making it for more than 15 years. Since my uni years, I haven't changed a thing. Ok creativity strikes sometimes, but the original is still so holy-mole good that it's something my fam and friends know me for.
While many other dishes on my site are captured and documented here on the first-try, this one is tried and true, so without further ado, here's the How-to:
Recipe for one large avocado's worth, so you can multiply as required.
1. Into a food processor, place: ten root- and stem-removed small sprigs of cilantro, one half seeded jalapeno pepper; two small cloves of garlic; one quarter of a very small red onion; freshly squeezed juice of a half lime; 1/3 tsp of chipotle ground pepper, ground cumin, and ground coriander; Herbamare veggie salt and ground black pepper to taste (do taste it and check if unsure, it's a good time to add more salt or kick with jalapeno or chipotle). Chop these these up to be well mixed and a roughly a fine mince.
2. Add one quarter ripe avocado and six small grape tomatoes (of the equivalent of your available tomatoes - it doesn't change much). Pulse-chop these roughly.
3. Add in the rest of the 3/4 of the ripe avocado. It's nice to leave some medium chunks of avocado, so to pulse-chop these very roughly keep it really rough by quickly just tapping the food processor's pulse or chop button to whip it on and wait for it to stop again. Repeat that until done. If you're doing this all by hand, you can mash it with a fork to whatever consistency you enjoy.
4. Remove it from the food processor's bowl with a spatula. It should be firm and hold its shape, not runny.
Presto!
Enjoy with whatever you like: chips, crackers, on a sandwich, burger, or Mexican food. As a quick snack, I love it with Bean tortilla chips from Beanitos (white-bean variety shown here) or Beanfields, since they're much healthier than corn chips.
Notes and fun variations:
- Salt quantity should depend on if you use un/salted chips or stronger salts like Real Salt, smoked salt etc.
- If you're adverse to acidic/sour tastes, consider half this lime juice, but lime is alakine forming in the blood anyway. Besides, I love the crispness--it's like a white Sauvignon Blanc that has a snap. Without this, I find many guacamoles fall flat.
- If you love chipotle smoke and spice, try replacing the jalapeno pepper and chipotle powder for canned chipotle pepper to your liking, being careful to taste as you go on step 1.
- I did my best to write simple measurements for how much of each ingredient to use. One large clove of garlic and 1/8 of a large red onion would be equally fine. You'll figure it out!
Chaos Crunch (Chocolate-chip Oatmeal++) Cookies
Ingredients
1 cup butter, softened
1 cup packed light brown sugar
1/2 cup white sugar
2 eggs
2 teaspoons vanilla extract
3/4 cup all-purpose (can be whole wheat too) flour
- 1/2 cup coconut flour
1/2 teaspoon baking soda
1 teaspoon salt
2 cups oats
+ Cinnamon
+ Large Coconut Flakes
+ Pecans and/or Hazelnuts and/or Almonds mixed ground (some small and some large pieces)
+ 1 1/2 cups chocolate chips

Directions
Preheat the oven to 350 degrees F (165 degrees C).In a large bowl, cream together the butter, brown sugar, and white sugar until smooth. Beat in eggs one at a time, then stir in vanilla. Combine the flour, baking soda, and salt; stir into the creamed mixture until just blended. Mix in the quick oats, walnuts, and chocolate chips. Drop by heaping spoonfuls onto ungreased non-stick baking sheets. Bake for 12 or so minutes in the preheated oven. Allow cookies to cool on baking sheet for 5 minutes before transferring to a wire rack to cool completely. Most times I bake on parchment paper because it is less mess. Mix freezes well in little balls or patties.